If your summer is anything like ours, it probably feels like a bit of a let down. I'm grateful for our health. And, while I'm having to work less and juggle having a kid at home full time, we are fortunate we are able to make things work. Unfortunately, with COVID numbers still on the rise and expectations of virtual learning extending into the fall, summer camp and our usual summer adventures just aren't even a consideration right now.
Naturally, I have a very disappointed kid. For the last two summers he has spent the majority of his summer break at camp making new friends, playing outside, swimming in the pool, doing crafts, having theme days and basically living it up. This summer he's getting worksheets, reading time and quiet play time while I try to work.
For the most part, he's been a good sport about it. He has a reward chart and earns stickers for doing his work and reading. Ten stickers earns him a trip to The Finding Place (inspired by Tumble Leaf). We also got a small pool for the back yard and he's been treated to a few new Lego sets. But let's face it, no matter what I do, a summer with mom is just not the same as a summer at camp. Especially when any thoughts of a vacation are off the table thanks to the same pandemic that is preventing him from going to camp.
Welcome to Camp
One night I was thinking about how I wish there was some way to still have that camp experience. I considered camping in the back yard, but it's already unbearably hot and while it might amuse him, backyard camping isn't going to do much to entertain him. One thought led to another. Finally, I realized while we might not go camping or hang out at summer camp, we can do plenty of camping inspired activities and summer camp style crafts at home.
I originally had plans to decorate, but in reality, while themed decoration might make the day more pinterest worthy, it wasn't going to have much impact on his experience. Plus it was a lot of excess effort to set everything up. Energy that was better spent on prepping a marathon of camp-themed crafts. So decorations were limited to a picnic patterned table cloth and a couple of battery operated lanterns.
The next morning, he woke up to find a little surprise waiting for him in the kitchen.
Get Outside!
We started the day off with a bike ride. It was a bit of a disaster since the bike was brand new and the training wheels weren't on quite right. For a kid that has been confidently riding a bike since he was two, there was a lot of falling and tears towards the end. But the idea is there! Whether it's a bike ride, a game of tag or running around the block like a lunatic, get outside!
Starting the day with some exercise instead of cartoons with breakfast just gets things moving. It also set the tone that the day would be different.
Cookies and Cream Ice Pops
Our first craft was actually a recipe. Using ice pop molds from Ikea and a few simple ingredients, we made Oreo Cookie popsicles. Since they would take a little while to freeze, we made them in the morning so we would be able to have them as an afternoon snack.
Ingredients:
1/3 cup whole milk
1/3 cup whipping cream
1 tbsp sugar
1/2 tsp vanilla extract
1 bag Oreo Minis
Pour the milk, whipping cream, sugar and vanilla into a small measuring cup. Stir to dissolve the sugar. Set aside. Fill the popsicle molds with Oreo cookies. Pour the milk mixture in to fill the remaining space. Set in the freezer until frozen. The time will vary based on the size of the mold.
There are quite a few different ways to make these, so if you don't like this recipe, try another one. If you prefer the taste, you can use almond milk or skim milk. I've even seen versions that call for a mix of whole milk and condensed milk. You can also swap out the Oreo minis for full size Oreo cookies. You can break them into smaller pieces or use larger Popsicle molds and put the cookies in whole.
No matter what ingredients you use, this is a great activity to incorporate measuring, addition, subtraction and even some science. We talked about adding the ingredients. We did simple math as we filled each popsicle to find out how much liquid was poured into each ice pop. We also talked about how milk and other materials change from liquid to solid.
Construction Paper Campsite
Our next activity was setting up a camp site. This is another easy craft with simple materials but it was a lot of fun. It also took a while from start to finish so it does pass some time.
Materials:
Construction paper (black, brown, green, blue)
Paint (white, yellow and red)
Q tip
Scissors
Glue stick
First, use the Q tip and white paint to add stars to your night sky. While that is drying, cut out green circles for your tree tops and brown rectangles for your tree trunks. Crumple up the green circles to give them texture. Cut a large blue triangle for your tent. Make a small 1 to 2 inch cut in the middle of one side of the triangle. Fold these pieces back to make your tent flaps. Use a scrap of paper in a different color to put behind your tend flaps. Finally, cut some small brown rectangles for your firewood.
When you are done cutting, lay out all your pieces on the black background to decide where they will all go. Glue the tree trunks down first, then add the green tree tops. Next, glue your scrap paper to the back of your tent and trim it down if needed. Glue the tent and the campfire logs to the black paper. Using one finger, paint the fire on top of the campfire logs. Alternate using yellow and red to get a fun mix of colors.
You can also mix it up and do a daytime camp site. Use a light blue paper for the background and cotton balls for clouds. You can also swap out the blue construction paper for a different color tent. Use blue construction paper to make a lake to fish in. Cut green triangles instead of circles to make evergreens. Make bushes instead of trees and use a Q tip and red paint to add berries.
This activity is great for reviewing shapes with younger kids. You can also talk about how changing the size of the shapes changes the picture. And the scissors are good practice for school and developing fine motor skills.
Handprint Campfire
This is a quick and easy craft that makes a cute piece of art to hang on the wall later. It does get a little messy, so make sure you have a sink and hand soap ready.
Materials:
Red paint
Yellow paint
Paintbrush
White cardstock paper
Brown construction paper
Glue stick
Scrap paper
Cut out a few brown rectangles in various shapes and sizes. The less perfect, the better. These are logs after all. Lay out the logs to build your campfire. Using the paintbrush, paint one hand with red and yellow paint. Using the scrap paper, test to see if the amount of paint is too much, too little or just right. Reapply paint, making adjustments as necessary then stamp the hand on the paper. Repeat this 2 to 4 times until you have a good fire. Then, using one finger, add some sparks and add a peak to the top of the flame.
While we worked on this project we talked about how we can find shapes in nature and how those shapes are imperfect. Tree trunks, branches and logs might look like rectangles, but they are not perfectly smooth. So our craft doesn't have to be perfect either.
Jello Fish Bowl
If I did it all over again, I'd probably skip this one. The activity part didn't last that long and, turns out, he doesn't like the taste of Jello. Don't get me wrong, it was fun once, but I'm happy to not do this one again.
Materials:
Heat resistant mixing bow or measuring cup
Glass bowl or round bubble bowl
Blue Jello mix
Swedish fish
Mix the blue Jello following the instructions on the packet. We used the quick set method to speed things along. Pour the Jello mixture into the glass bowl. Let set in the fridge for 30 minutes to 1 hour. Once the Jello has started to get firm, push the Swedish Fish into the Jello. We used toothpicks to help with this. If the Jello is too firm, you can use a knife to make an incision about 1.5 inches long and then push the fish in.
Fuzzy Caterpillar
This was another fairly quick craft, but it was a lot of fun.
Materials:
Pompoms
Green foam
Tacky glue
Googly eyes
Scissors
Cut out a leaf shape piece of foam. Lay out your pompoms on the leaf to see which colors and how many you want to use and where you would like to put them. Move the pompoms off the leaf and draw a line of glue where your caterpillar will go. Place the pompoms on the glue line one puff ball at a time. Add more glue as needed. Lastly, add two googly eyes to the pompom that will be the caterpillars head.
You can make your leaves more interesting by making them different shapes. Look up different types of trees in your area and pick out some fun leaf shapes to trace onto the foam. Use larger pompoms and add cup up yarn or pipe cleaners for legs. Use puff paint to add a smile to your caterpillar. Add little white dots to the leaf for caterpillar eggs.
Learn to Cast
As part of this whole "camp" experience idea, I realized the little guy has never been fishing! I grew up near a lake and spent many family vacations lakeside in Maine and New Hampshire, so it was crazy to realize this is something we haven't done yet.
For this activity, we just went in the back yard, used a cheap kids fishing pole and practiced casting. I got the fishing pole from Academy Sports for $10. It came with a practice plug and I added a cheap bobber, mostly to stop him from reeling in the line too far. It sounds crazy, but he had a blast. He stood in the shade and just kept practicing. He was really happy to take pointers and see how far he could cast.
Of course, it was all fun and game until somebody caught a shed. He asked me how far I could cast it. Well, it went over the fence into the neighbors yard. He thought that was hysterical and asked me to do it again. The second time I caught the shed. Let me tell you, fishing poles and gutters do not mix. I had to pull out the ladder and untangle the fishing line.
He practiced for a while longer after that, but I was done!
Firefly Jar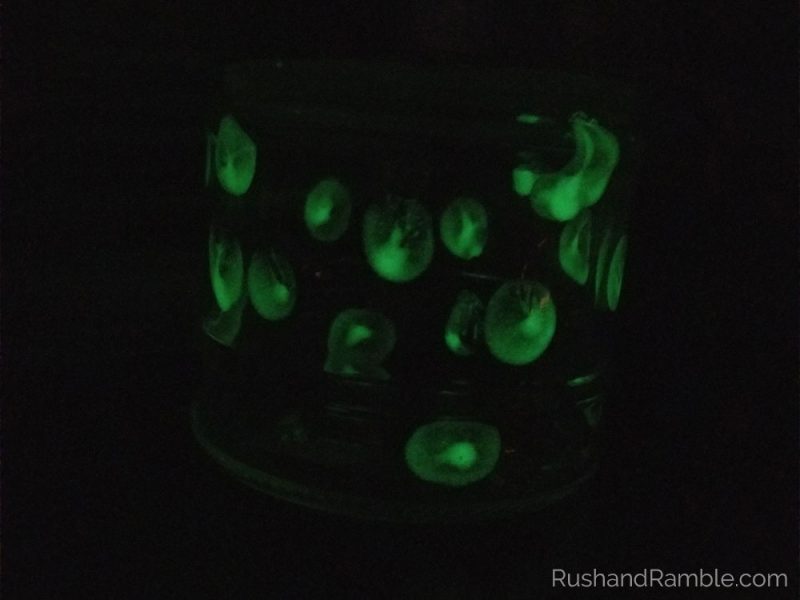 If you aren't fortunate enough to have fireflies or lightning bugs flying around in your back yard, go ahead and make your own!
Materials:
Glass or plastic jar
Glow paint
Q tips (optional)
Sharpie or Puff Paint (optional)
If you are using a glass container, I recommend wiping it down with rubbing alcohol before you get started. This will make sure the surface is nice and clean and the paint will stick a little better. Dip a Q tip or your finger tip in a bit of glow in the dark paint. Apply the paint to the inside of your jar. Repeat until you are satisfied with the amount of "fireflies" in your jar. If you want, you can draw on the outside of the jar using a sharpie or puff paint to give your fireflies faces and/or wings. Set your jar in the sun so your lightning bugs will be ready to light up your room at bedtime.
Make Some Mud
Simple and delicious. This mud pie inspired treat is a fun way to wrap up the crafts for the day.
Ingredients:
Chocolate pudding mix (no-cook)
Milk
Oreos
Gummy worms
Mix the pudding according to the package instructions. Or toss the pudding mix and milk in a large mason jar and shake (that's what we did). Once the pudding is thoroughly mixed, dump it in a large bowl. Using a large spoon, smack some Oreos to make cookie crumbles. You can also use a small hammer to speed things up. Dump the Oreo cookie crumbles on top of the pudding and spread them around. Top it off with some gummy worms. Place your mud mix in the fridge for at least 30 minutes to chill before serving.
Please note, mud pudding is best consumed with a giant spoon and eaten directly out of the big bowl. It's just more fun this way.
Campfire Cookout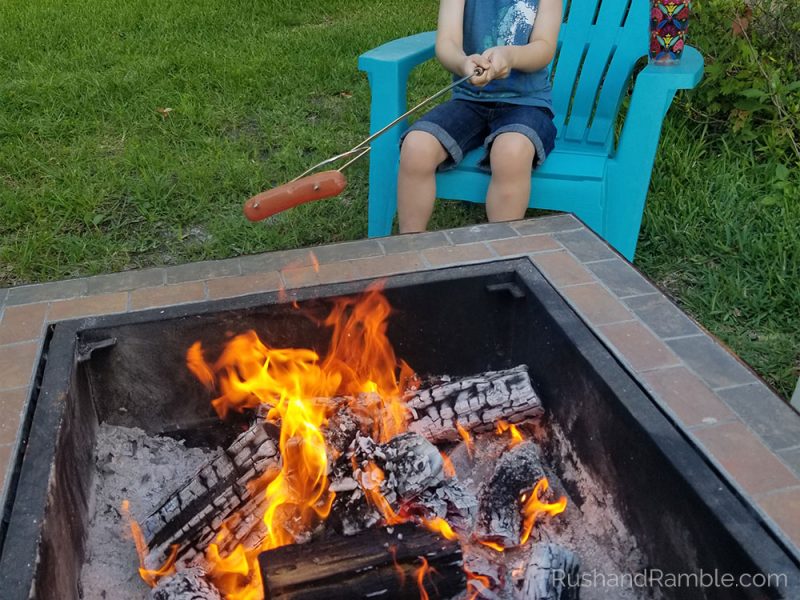 What better way to finish up a day at camp than beside a campfire roasting hot dogs and marshmallows. I even managed to squeeze in a short writing assignment by asking the little guy to write a story to read by the campfire. He LOVED the idea of campfire stories so much, he had no problem practicing his handwriting.
We sat outside enjoying our campfire until the sun went down. It was a beautiful evening and a fantastic way to end the first day of stay-home summer camp. My only regret is we couldn't lay in the hammock by the fire because the wind kept shifting and blowing the smoke into our faces.
Let's Do That Again!
We had so much fun with our themed craft day I decided to make it a recurring event. For the rest of the summer I'll pick one day every week to dedicate to themed crafts and activities. Next up is Dino Days so be sure to check back for a new set of themed crafts!