It's Plastic Free July. Don't know what that is? I didn't either until a few weeks ago. But I'm taking part this year and I hope you will too!
Plastic Free July Eco Challenge
I had never heard of Plastic Free July until I was invited to join a team and participate in an Eco Challenge. The Eco Challenge was inspired by an Australian-founded initiative called Plastic Free July. Participants are challenged to make small changes that have a huge impact on wildlife and waterways, especially our oceans.
Before the first of the month, each participant selects which challenges they will accept. The challenges vary in difficulty and some are daily while others are one time challenges. Here are mine:
Daily Challenges
Pick up 2 pieces of litter each day
Write 1 letter or email per day to a public official or company to advocate for planet-friendly policies
Keep plastic straw out of the landfills by refusing straws or using my own reusable straw
Keep plastic cutlery out of the landfill by using my own reusable cutlery
Prepare 1 meal without using any items packaged in single-use plastic
Use reusable containers instead of single-use plastic storage items (no plastic wrap, ziploc bags, etc)
Purchase food items with the least amount of packaging
Purchase produce items without plastic packaging
Do not accept any disposable bags when making purchases, including produce bags
Purchase dry goods from the bulk section using my own containers
Use a reusable water bottle and avoid disposable bottles, cups and mugs
One-Time Challenges
Volunteer 10 hours in my community
Share my actions by posting to on social media
Advocate for alternatives to single use packaging at local grocery stores, markets, or work
Replace my plastic toothbrush with a bamboo toothbrush
Switch to a menstrual cup and/or cloth pads
Conduct a waste audit to see how much waste I create and where I can reduce the most
Watch a documentary film about waste with family or friends
Avoiding Plastic
We're only five days into this challenge. So far we've made a lot of little, easy changes, like shopping the bulk section using our own containers. Whole Foods made this process really easy. Customer Service weighed each mason jar and labeled them with tare weights which were then subtracted at checkout.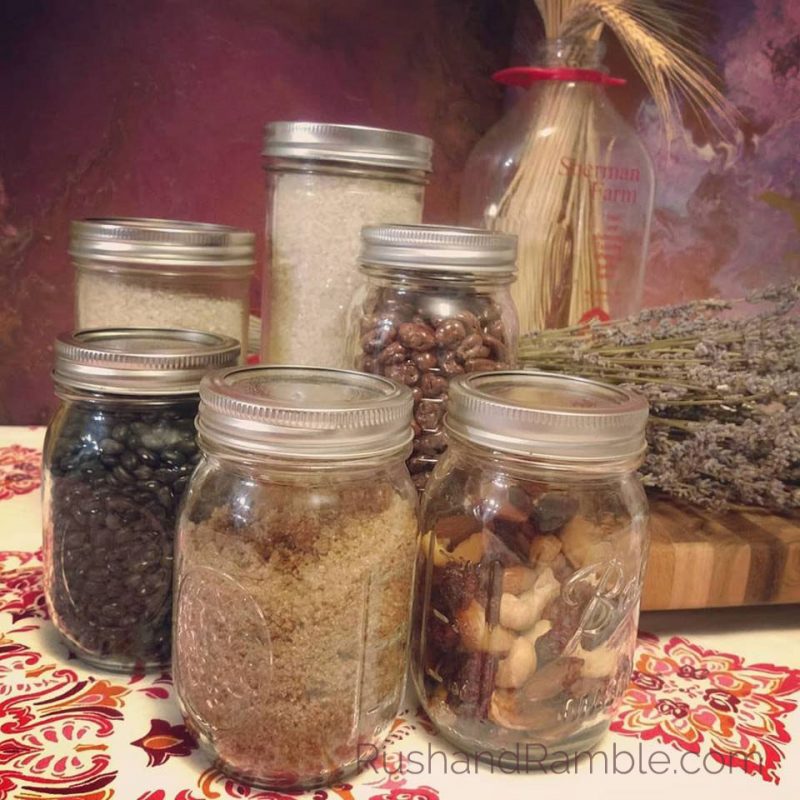 We've also gotten better about being consistent with things like using reusable bags, avoiding single use plastic cups and refusing straws. We have a pile of reusable shopping bags but often forget them. And to-go coffee was the biggest culprit with single use straws and cups. So, great timing, I am trying to quit coffee. In some ways it makes it easier to avoid plastic since I'm avoiding Starbucks coffee all together. But it also means I'm caffeine deprived and cranky. Which makes all of life harder.
But my eyes have been opened to just how difficult it is to avoid plastics. Especially when it comes to food. Berries have been impossible to find outside of plastic containers. The same is true for meat. Forget milk, yogurt, cheese. The list goes on and on. I'm hoping to make it to the farmers market this weekend to find plastic free berries. I may also stop by the butcher, which is more expensive but seems to be the only option for plastic free meat. And for yogurt, I've managed to find one brand that comes in glass containers and is carried by mainstream grocery stores.
The Unhealthy Habit of Plastic
It has become pretty apparent to me that a lot of our plastic problems are also health problems. In the food store, avoiding plastic also means avoiding most junk foods. Cutting out plastic for Plastic Free July will probably turn out to have an even bigger impact on our health than it does on the environment.
Avoiding plastic at other stores often means cutting down on unnecessary purchases. I find myself looking at things, examining all. the. plastic. and questioning "Do we really need this?" My house, and thus my life, are already so bogged down with excess things. What started as Plastic Free July is rapidly evolving into a larger lifestyle overhaul.
It all started with Plastic Free July and a challenge to reduce my negative impact on the environment by reducing plastic use. Will you accept the challenge and go plastic free this July?
One of the most important aspects of Plastic Free July is spreading the word, raising awareness and inviting others to join us in making a change. To help make that more enticing, the Wild Things (the Young Professionals Group I volunteer with) is offering a chance to win a set of reusable stainless steel straws.
Entering is easy. All you have to do is comment with at least one way you plan to reduce your plastic use during the month of July. You can also enter by tagging friends in the comments, which helps us spread the word and invite more people to join the challenge to go Plastic Free this July.
You can also help spread the word by sharing on social media using #PlasticFreeJuly and #ChooseToRefuse
So, how will you reduce your plastic use?