Easter is next weekend, which means egg hunts, Easter baskets, commemorative photos of terrified children and giant bunnies, and yes, dyed eggs. This is my first year letting my son near the dye so I thought we'd make it extra special try something different, cool whip Easter eggs.
I got the idea after someone showed me a video of eggs being colored with shaving cream and food coloring. It looked like fun and a lot more interactive that the standard egg-sitting-in-a-cup-doing-nothing method, but I had concerns about the chemicals. How many times have you peeled a dyed egg and found a rainbow of colors inside? The though of eating shaving cream grossed me out.
After some thought I decided Cool Whip seemed like a good substitute. I wasn't sure how the ingredients would affect the dye and how well it colored the eggs, but it seemed like a better option than eating shaving cream. Either way, I figured it would be a fun activity for the toddler. And it was.
I put rubber gloves on him to minimize the staining; I didn't feel like having to explain to his teachers why he suddenly became a smurf over night. This resulted in him flinging his hands around a bit and cool whip and dye splattering on a few different surfaces. Pro tip – do this one outside and plan ahead so you have kid sized gloves.
After the eggs sat for a bit to absorb the dye, I rinsed them off. I tried water, vinegar, and just wiping them dry with a paper towel. None of these methods seem to impact the quality of the color left on the egg, so I'd recommend just rinsing them in water since it's the easiest option.
As for the coloring? I was a little disappointed at first. The red and yellow didn't seem to set well. I was ready to call this one a fail until I rinsed the first blue and green egg. The colors were vibrant and swirled nicely. I'd say this one is best done with rich, dark colors and if you choose to use yellows or pinks, make sure you add extra food coloring.
Cool Whip Easter Eggs
Start by letting your Cool Whip or other whipped faux dairy topping defrost in the fridge for couple days so it is soft and ready for use. Spread a layer about 1/2 to 1 inch thick in a pan. Spread the whipped topping evenly, or at least evenly-ish.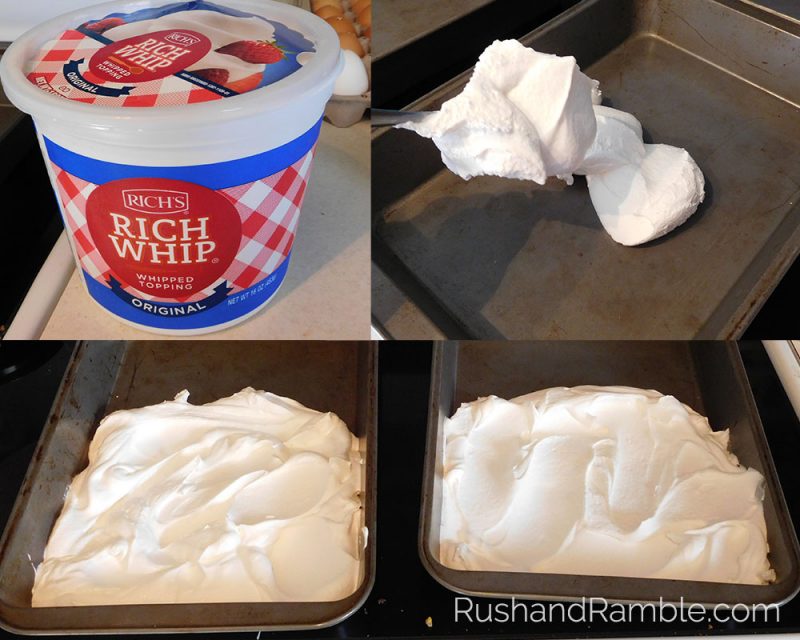 Add food coloring. I'd suggest sticking with two colors per pan. Mixtures like blue and green, red and yellow, or purple and pink do well. Using a skewer or toothpick, switch the food coloring around in the cool whip.
Once your pans are prepped, I'd suggest putting gloves on and moving outside for the remainder of the project. It's fun, but messy. Place the eggs on the cool whip and roll them around. You can do this one at a time or put a bunch in at once and go nuts. Just make sure you thoroughly coat each eggs with dye and whip.
Let the eggs set. I stuck mine in the fridge for a little over an hour while we played outside and enjoyed the sunny weather. Once they have soaked in the dye for a while, simply rinse them off in running water and set them aside to dry.