It started with cleaning up some odds and ends and getting frustrated for the millionth time at how much junk (especially jewelry clutter) seems to land on my dresser. Most of my little projects around the house are pretty spur of the moment like this. The movie Robots has a fun line that sums this up nicely: See a need, fill a need.
I built this shelf a few months back in a similar manner. I had just ordered a nice, new diffuser and wanted to use it in the bedroom, but wanted it well out of toddler reach. I had some brackets and scrap wood laying around so I made do with those, found a stud in the general area I wanted the shelf and up it went.
Since then, I've scoured the internet (mostly lazy Pinterest browsing) for ideas to store and display jewelry in a functional way. Nothing really struck me quite right based on the space I wanted to use, but as I was staring at this massive heap of jewelry, clutter, and dust I figured it I had to try something. I found a few spare cup hooks I has from a previous project in the kitchen and stuck them on the end of the shelf.
I liked it. So after a quick trip to Lowe's, I went to work screwing in a bunch more. Unfortunately, Lowe's only carries nickel cup hooks in 1 1/4″ size and I wanted the hooks under the shelf to be smaller. I chose white because the only other option was brass. The white hooks are 7/8″ and were a pain to screw in upside down. I'd highly recommend taking down the shelf to screw in your hooks, but I was feeling particularly lazy and didn't. It probably would have saved some time, but, oh well.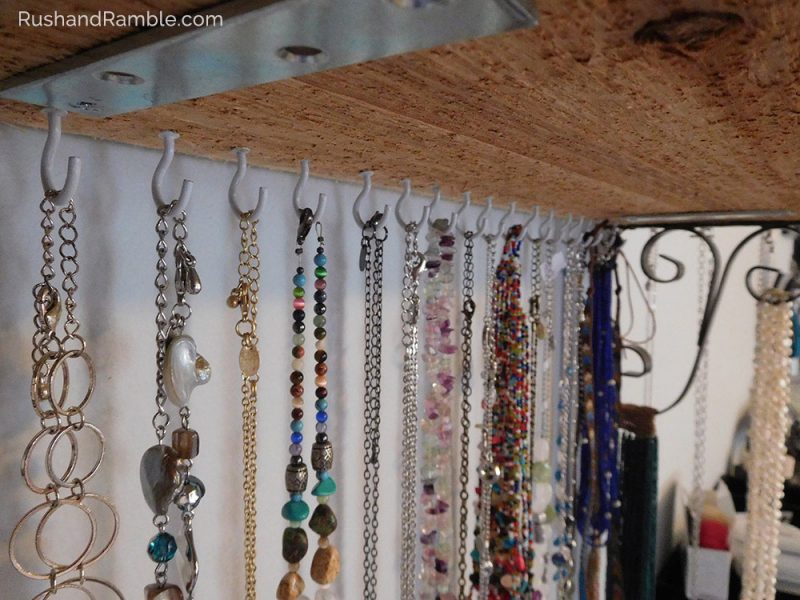 I'm pleased with the way the hooks ended up. I put a few chunkier necklaces hanging on the bracket itself and tried to mix lengths, bulk, and materials as I hung the necklaces to give it a nice organized-chaos feel. I'd originally planned to put a second row of hooks up, but decided to leave it at one. Partially because I don't need an entire second row and partially because I didn't want it to end up feeling too cluttered, but you could definitely fit two or three times as many necklaces with no trouble at all.
Now to find a storage solution for earrings.