A pinch of this. A dash of that. And a whole lot of DIY. This is my journey. A chronicle of my adventures (and misadventures) with do-it-yourself projects, simple recipes and experiences surviving parenting and adulting.
Join me for the good, the bad, and the 'nailed it!' moments along the way.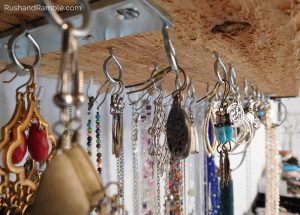 It didn't take long for the lingering pile of earrings to get to me. After some more Pinterest browsing and some Google searching I settled on a solution and was off to the hardware store the…
Read More
Excitement and exploration. Chaos and confusion. Whisk and wander.
Hurry up and wait. My life in a nutshell. And the concept behind Rush & Ramble.
Whether you're looking to spend some time with a DIY project or buy something already made, I've got you covered. In additions to projects, crafts and kid-friendly activities, I'll be sharing my thoughts, experiences and experiments along the way.