Looking for some fun activities to do at home? Yeah, so are we!
On nice days we've been enjoying the sunshine and gorgeous weather. There has been lots of frisbee, soccer, ladderball, corn hole, and even a little basketball and bocce. Thanks to Amazon, I was able to upgrade the backyard with a hammock. And hopefully the marigolds we planted from seed will continue to grow and start blooming soon. We've installed a squirrel feeder that our furry friends love and a bird feeder our feathered friends love to ignore.
But these nice days are bittersweet. We'd rather be playing with friends. And many of these beautiful days are ones where I'd normally say "Wow, what great day to go to the zoo!" We really miss the Jacksonville Zoo and Gardens. They recently announced the birth of some Asian small-clawed otter pups. Think of the cuddle parties we are missing!
And those rainy days. I can only watch Descendants so many times before I descend into madness! And we're already on our second round of Ninjago. We finished the entire series once already and now we're back for more! And Bluey and Fig… okay, I still really like how cute and whimsical they are, but still. Enough! Enough TV. Enough screen time. Let's do something else!
It Started with an Okapi
What does missing the zoo have to do with anything? So glad you asked! A couple weeks ago my son was working on a school project about okapi. We are okapi obsessed in this house, but we were determined to learn new things about okapi. And we did! Largely thanks to John Lukas and the Okapi Conservation Project.
We found lots of facts and learned how okapi defend against leopards. What we didn't find was activities, worksheets or really much of anything okapi related. Around this same time, Okapi Conservation Project happened to share a video on Facebook. This video just so happened to be a 'how to draw cartoon okapi' video tutorial by Unboxals. So I drew an okapi.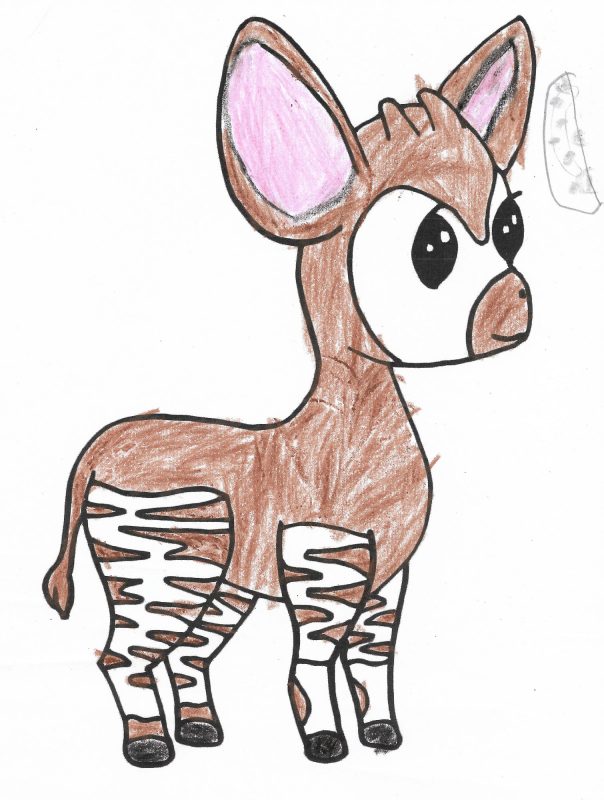 The kid loved it! And I had a lot of fun making it! I didn't realize it right away, but it has been ages since I just sat and doodled. Over the next week, I continued to doodle and draw everything from succulents to donuts. Since my 'work day' is constantly interrupted by questions about school work, some days I can't get much done. But drawings are easy to pick up and put down, so that is what I did.
Thanks for the Input
After about a week of this, I decided to start making drawings of animals we were missing at the zoo. I also made a post on Facebook asking for input on what animals other people would like to have as coloring sheets.
Between my own ideas and input from friends, I ended up with 27 animal drawings. I took each drawing, scanned it, and used Photoshop to clean up any stray marks and darken the lines. Those images were then compiled into one document, a downloadable Animal Coloring Book!
Let's Get Coloring!
You made it this far through my rambling story, so you definitely deserve a free copy! What are you waiting for? Download a free copy of the Animal Coloring Book, print your favorites and get coloring!
The coloring book includes:
Giant anteater
Arctic fox (2 versions)
Axolotl
Bird of paradise
Camel
Cassowary
Fennec
Flamingo
Flying squirrel

Fruit bat
Giraffes
Jellyfish
Leopard shark
Magellanic penguin
Okapi
Panda
Pangolin
Peacock

Platypus
Red fox
Red panda
Rhinoceros
Sea turtle (baby in egg)
Sea turtle (adult)
Sloth
Zebra
Now, I know the person who requested a zebra. He was CLEARLY being smart ass since zebras and black and white and thus don't need to be colored. Well, I drew a zebra with no stripes! So there! You'll get to add your own stripe pattern to your zebra.
Share Your Art
After you color your animals, visit Rush & Ramble on Facebook or Instagram and share your art with #rushandramble. I would especially love to see your zebra stripes!
If the interest is there, I will do a second collection of coloring sheets. This next batch will likely be goofy, just-for-fun, make believe creatures and creations. Perhaps a happy succulent or two for good measure. If you have any suggestions or requests, be sure to leave them in the comments! And stay safe out there!