Thanks to coronavirus and COVID-19, these are some strange times we're all living through. Stores and companies shut down, distance and virtual learning for kids. Parents juggling school and working from home. Endless binge watching of Netflix and Disney+ (yeah, you too Hulu). And no one can find toilet paper, paper towels, wipes, soap or hand sanitizer. Add on top of all that conflicting information and new updates every day that often contradict everything that was said last week. Is your head spinning yet?
Now, I like to be optimistic. That's hard when we still can't yet see the light at the end of the tunnel. But I choose to believe the end of the tunnel will come. In the meantime, I've been thoroughly enjoying some of the delightful memes and isolation-inspired gifs. And the warmer side of humanity does seem to shine through.
Thank You to All the Helpers
From medical professional and first responders to groceries store cashiers and warehouse staff to volunteers sewing masks and neighbors supporting small businesses. It turns out good people and helpers are everywhere. (I don't much care for Daniel Tiger, but I do appreciate a few snippets from the show. Among my favorites is a conversation Daniel has with his parents and his dad tells him you can always find people who are helping. Look for the helpers.)
As for us? We had an early spring break so we got to enjoy ourselves on a wonderful vacation with friends before things got real. We're home now. We haven't run out of toilet paper. We've replenished most groceries through Target Drive-Up, Whole Food deliveries and Amazon Pantry. We might be climbing the walls, but we've barely left the house in the last 17 days.
Maybe it's the isolation kicking in (or maybe this new, slower pace of life has finally given me enough head-space to hear myself think), but between work and distance learning, I find myself making up amusing nonsense in my head. Today I was reading an article and it said things about people still being out and about everywhere. One thing led to another and next thing I know I have a very Seussical rhyme going. And so I present to you what I think it would look like if Dr. Seuss wrote an opinion piece about the coronavirus and COVID-19.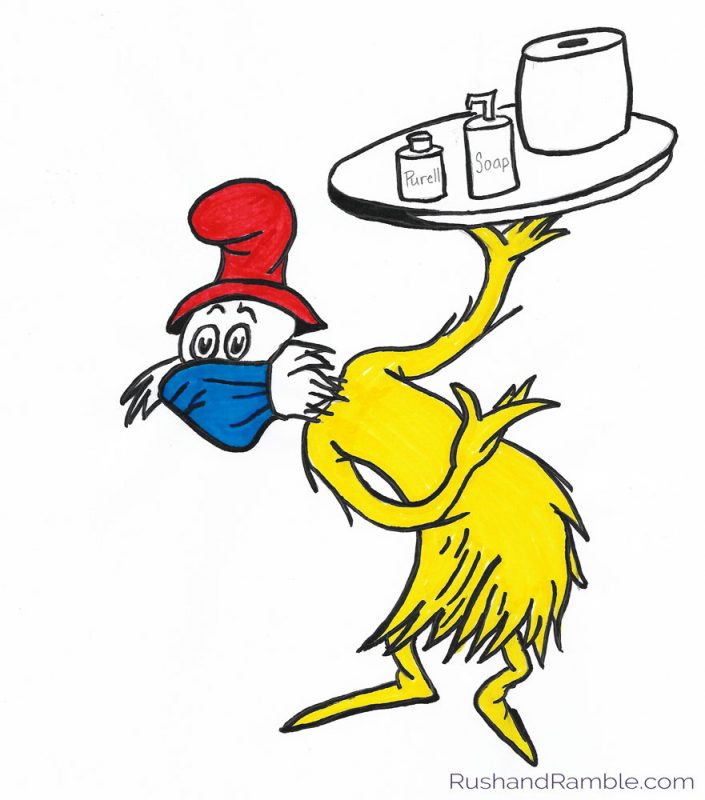 We Do Not Like COVID-19:
If Seuss Wrote an Opinion Piece on COVID-19
That quarantine. That quarantine.
I do not like that quarantine.
Do you like a COVID-19?
I do not want a quarantine.
I do not like COVID-19.
Could you catch it here or there?
I would not go to here or there.
You could catch COVID anywhere.
I do not like COVID-19.
I do not want a quarantine.
Do not go to a crowded place.
Do not touch your nose or face.
Do not look like a big dope.
Do not skip the sink and soap.
Do not spread germs outside your home.
Do not help these bad germs roam.
Not to the store! Not to the beach!
Not with your friend! Not with your teach!
Do not share COVID at work.
Do not share it with the clerk.
Do not go play at the park
Even if it's after dark.
Do not go and browse Target.
Seriously, please don't forget!
You cannot gather here or there.
You should not gather anywhere.
We do not like COVID-19!
We do not want more quarantine!