Teachers. The amazing people who help us raise our kids while stuffing their heads full of useful information and good habits. While I will gladly take as much of the credit as I can get for raising an outstanding kid, I would be remiss to not acknowledge the teachers that have had a hand in his development over the past year.
From bumps and bruises to nonsensical arguments, they have been there to literally and figuratively hold his hand as he worked through his first year of school. Even on days that were filled with difficult behaviors, they always reassured me and him with kind words and reminders that he is a wonderful kid. Meanwhile, I'm going gray as I'm trying to not yank all my hair out and scream at the top of my lungs. And I only have one to contend with.
Seriously people, quality teachers should automatically qualify for sainthood. Yes, I know we've all had a run-in with at least one teacher that probably should have chosen a different profession, but by and large teachers are some of the greatest human beings I have ever met. So, how do we go about thanking them during Teacher Appreciation Week?
Gifts for Teacher
For those that know me, it will come as little surprise to know that my primary love language for showing affection is gifts. Combine that with my love of crafting and Teacher Appreciation Week is a week-long struggle of "don't go overboard."
Now, you could certainly argue that with all the appreciation teachers deserve it is impossible to go overboard, but that has to balance against the practicality of gifting every teacher. If you're like me, it's not as simple as a lavish gift for one teacher. It's about carefully budgeting so you can find a way to thank all ten teachers that have a role in your kid's school year. Yes, ten.
I went back and forth on this quite a bit. Realistically, my son only has one primary teacher and two assistants that alternate days. But he also has a school director, an assistant director who greets him and signs him in every morning, and multiple teachers that supervise extended day every day. We certainly could have gotten away with not gifting every teacher, but I felt a small token for each and every one of them was just as important as gifting his three primaries.
Keep It Simple
Like I said, it was anything lavish. Each teacher got an Aladdin reusable cup and straw (Do Your Thing, Do What You Love, or Keeping It Cool) filled with Dove chocolates, a two pack of EOS lip balm, and a single packet of Starbucks VIA Instant Refreshers with a pun-tastic note attached. We picked up the plain white paper gift bags at Michael's and D decorated both sides of each and every one of them with stamps, markers and paint. For his primary teacher and two assistants, we also added in a Starbucks gift card. I thought it would be nice to do something to show them we love them a little extra.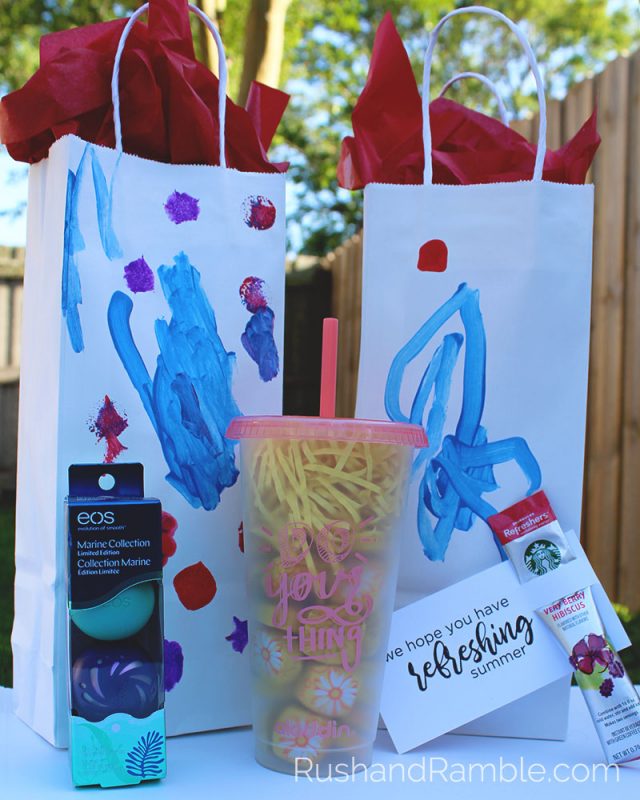 Kid Friendly Activity
Decorating bags was a fun craft but it also gave us an opportunity to talk about his teachers. While we stamped and painted the bags, we talked about each teacher. I asked what he liked about his teachers, how they helped him during the day, and what fun things he had done with them the past week. We also talked about how nice it would be to thank each teacher for what made them special.
Saying Thank You
This morning we got to school a little early so D could set to work handing out his gift and thanking each teacher one by one. He was so excited to do it and each teacher graciously accepted their gift with a great big hug.
Teacher Appreciation Week continues all the way through Friday. If you haven't done something for the teachers in your life, I really hope you will consider it before the week is up. Anyone who personally knows a teacher outside of the classroom can attest to how big their hearts are and how much they deserve a little something extra at least one day out of the year.
Teacher Appreciation Week Gifts Made Easy
If you want to steal my gift idea, have at it. You can download the "refreshing summer" tags to print at home and pick up Starbucks VIA Instant Refreshers at your local Target. You can also pick them up at a Starbucks, but for some reason all the packages at Starbucks have five packets while the ones at Target have six. Pair the instant refresher and card with a reusable cup and have your kid decorate a gift bag and you are good to go. If you have an older student, a short, handwritten note for each teacher(even the one they don't like so much) would be a great personal touch.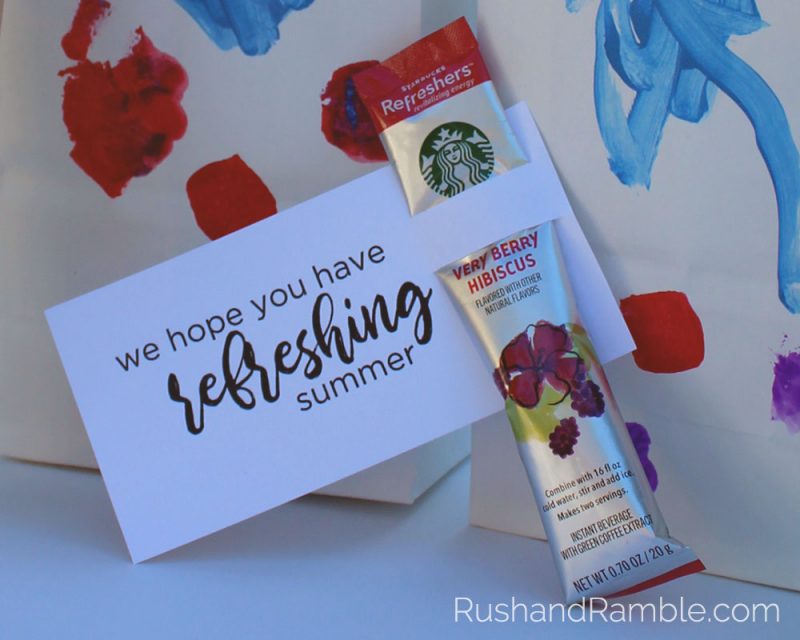 Even if you don't want to spend a dime or simply don't have room in the budget, take the time to write a thank you note. Our kids' teachers have done a lot this year, both in the classroom and on their personal time outside of school. Taking time to say thank you is the least we can do.