If you aren't artistically inclined, it's easy to dismiss the idea of making your own art to decorate around the house. But making beautiful canvas art isn't nearly as difficult as you might think. Dirty Pour Painting or Fluid Acrylic Painting is a lot of fun and you don't have to be an expert to produce stunning results.
A lot of people wouldn't even consider making their own art to display on their walls. If you are one of those people, I challenge you to step outside your comfort zone and give Dirty Pour painting a try.
Learning How To Dirty Pour
I came across an acrylic painting class that was fairly inexpensive compared to some other options. I sent it to a friend to see if she'd be interested in joining me. She liked the idea but painting with acrylics was not a challenge she was particularly interested in. A few days later she sent me information for a different class. This one was on the dirty pour technique.
I've seen these paintings before but I never paid much attention to how they were done. When I saw the class she sent me, I did what I always do when I find an art I want to try. I immediately took to the internet to see what Pinterest and YouTube had to say. My conclusion was not only would this be pretty easy but it looked like a lot of fun.
After reading through tutorial after tutorial after tutorial and watching a wide variety videos using different techniques I compiled a list of supplies and headed out to Hobby Lobby.
Gathering Supplies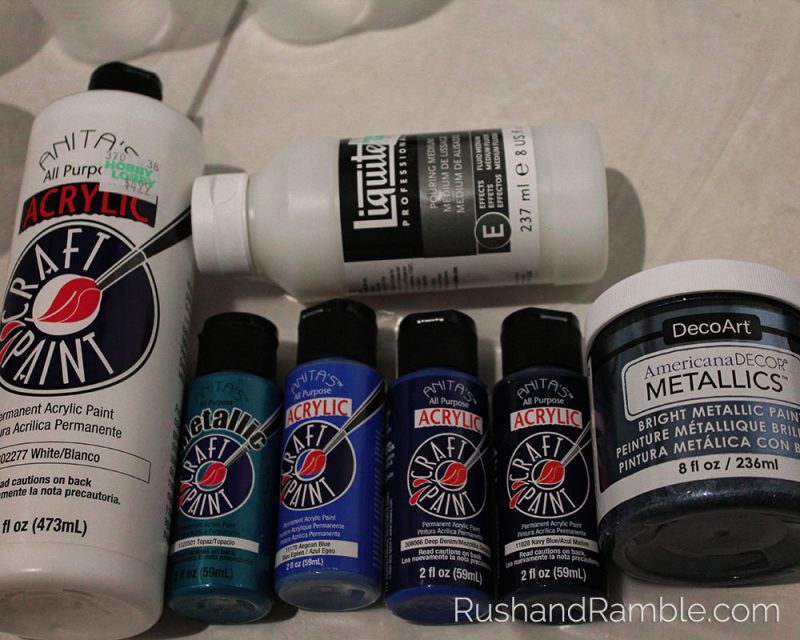 Lucky for me, the paints I wanted were on sale that week. I started with a small pile of colors and a few color combinations I hoped would work well together. I made a separate trip to Michaels for additional supplies and more paint color options. I went for a mix of flat and metallic colors, avoid most matte paints.
When all was said and done, I ended up with enough paint to make quite a few dirty pour canvases. At least I hoped. At this point, I was really uncertain how much paint it would take to cover a canvas, how much mixing medium I would need and how the colors would work together. It turns out, the paints here were more than enough to make four 12×12 canvases. I emptied the 2 oz tubes, but the others still have plenty of paint left to use them again and again.
Prepping Your Workspace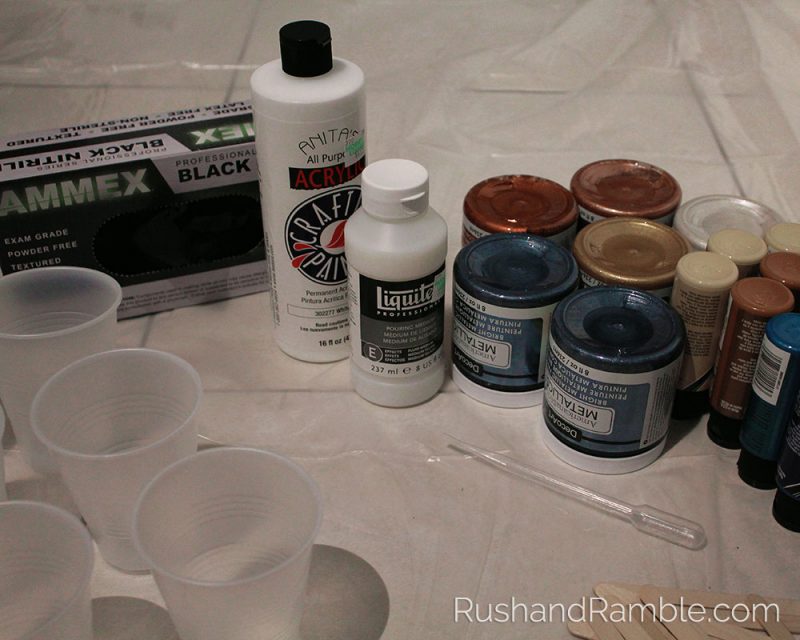 With my craft store paint supplies and Dollar Tree plastic cups, I set to work. The first and probably most important step was laying down a drop cloth. I used one of the thicker and more expensive plastic drop cloths. I has decided to work in the middle of my kitchen floor and the thicker drop cloths was well worth the investment. Dirty pour painting gets messy fast.
Mixing and Thinning Paints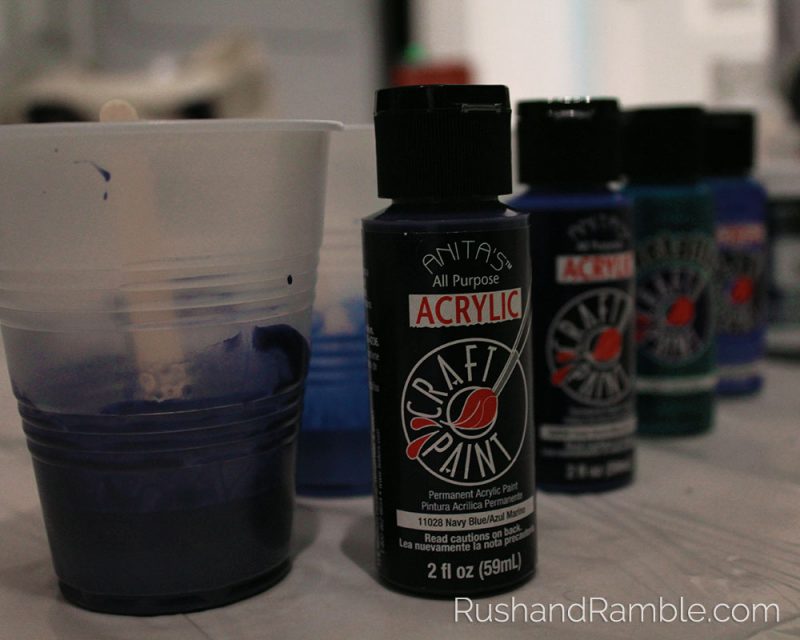 To thin the paints for a proper pour, I started by making a 50/50 mixture of Liquitex Pouring Medium and water. There are quite a few options you can use to prepare your paints for a good pour, this is just the concoction I settled on.
Once my pouring medium was prepared, I poured a small amount in a few cups. I then added paints to the cup and used a popsicle stick to blend the pouring medium and paint. I mixed pouring medium and paint until I ended up with a fairly runny mixture. The best description I found was in one video where they likened it to a heavy cream. I kept mine a little thicker than that, but that is the ballpark of the consistency you are looking for.
Making the Dirty Pour Cup
With all of my colors prepared, I started pouring white in the bottom of a new cup. I then added one color after another by pouring various amounts in the cup. As you add paints, DO NOT STIR the paints in the cup. Doing this will create a muddled mess and the paints will mix to make a single color. Just keep pouring colors into the up. In my case, I added paints until the cup was about half-full. Or half-empty for you pessimists out there.
Flip Cup (not the drinking game)
After I was fairly satisfied I had enough paint in my cup, I flip the cup onto the canvas. I tried two different ways of doing this.
The first option is to hold the cup upright, place the canvas on top of the cup and then flip them over together with your hand on the back side of the canvas holding it to the mouth of the cup.The other option is to set the canvas on the drop cloth, take the cup in one hand and quickly flip it onto the canvas.
I tried multiple paintings using both techniques. While I was more prone to spill some of the paint as I flipped it onto the canvas, I found the end result didn't show any noticeable differences and both seem to work fine. This is good to know in case you are doing a larger canvas. With a larger canvas you will likely need multiple cups of paint so you will need to flip each cup onto the canvas instead of flipping them together.
After the cup is flipped onto the canvas, I let it set for a couple of minutes. I did this to make sure that all of the paint could flow to the mouth of the cup. I wanted to have as little left over paint as possible when I lifted the cup.
Setting the Paint Loose
Let the cup sit upside down on the canvas for a bit before lifting it off the canvas. When you are ready, gently lift the cup up and off the canvas.
After lifting the cup, I tapped it on the corners of the canvas to try and get as much of the paint out as possible. Wearing gloves, I used my fingers to smear some of that paint around the corners to make sure they were covered and wouldn't be left white at the end of this process.
Spreading the Paint
Now the fun really starts. With your paint on the canvas, you'll want to pick up the canvas and gently tilt the canvas back and forth and side to side. Tilt the canvas in one direction to let the paint flow close to the edge of the canvas but not quite over. Repeat this in different directions to get the canvas coated from edge to edge.
Once your paint is covering the majority of the canvas, tilt it some more,  this time letting the paint flow over the edges. This will give your canvas a nice finished look around the wrapped edges. It doesn't have to be perfect but this way you will minimize the amount of white on the edges and the canvas will be ready to hang straight away, without a frame.
With your canvas and edges fully covered, you can continue to work the paint by tilting it in different directions. As you do this, you'll see the paints flow and stick in different places. You will also begin to see cells form.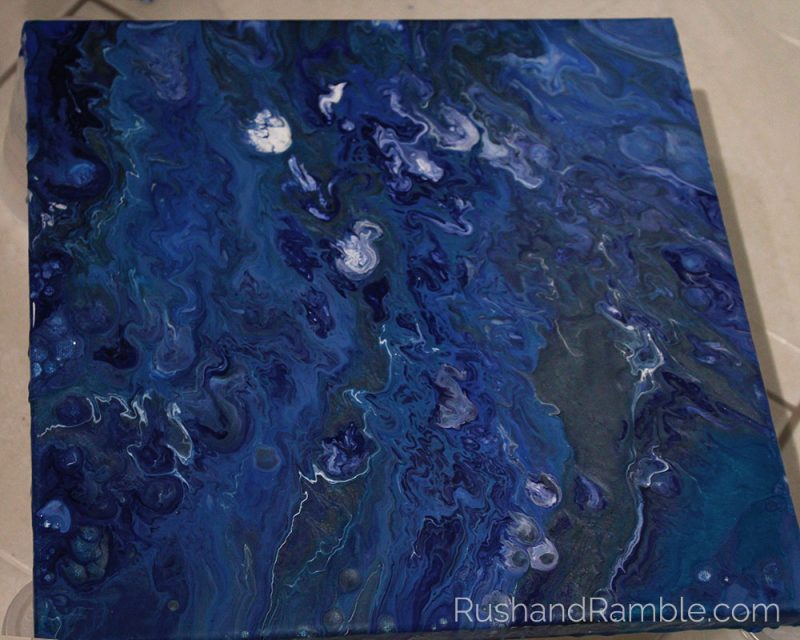 When you are satisfied with your coverage and the characteristics of the paint, set it down to dry. You're going to want to leave it on the drop cloth as it dries because paint will continue to drip off the edges for a bit. You will also want to make sure you leave it somewhere safe and out of the way. My paintings had to set overnight before they were completely dry the next morning.
Finishing Touches
After the paint has completely dried, you can add a clear coat over top to give it some shine. There are a lot of products you can choose from for the step. I personally went with a Polycrylic, a water based protective finish. Basically polyurethane but acrylic.
I have used this specific product on multiple projects. I've used it over stains and paints, on wooden furniture and just about everything else. I find it gives a nice thick but workable coat and dries with a beautiful, clear shine. Depending on the project, I typically use the gloss or satin finish. Both have consistently come out great so I decided to use it again on my canvases.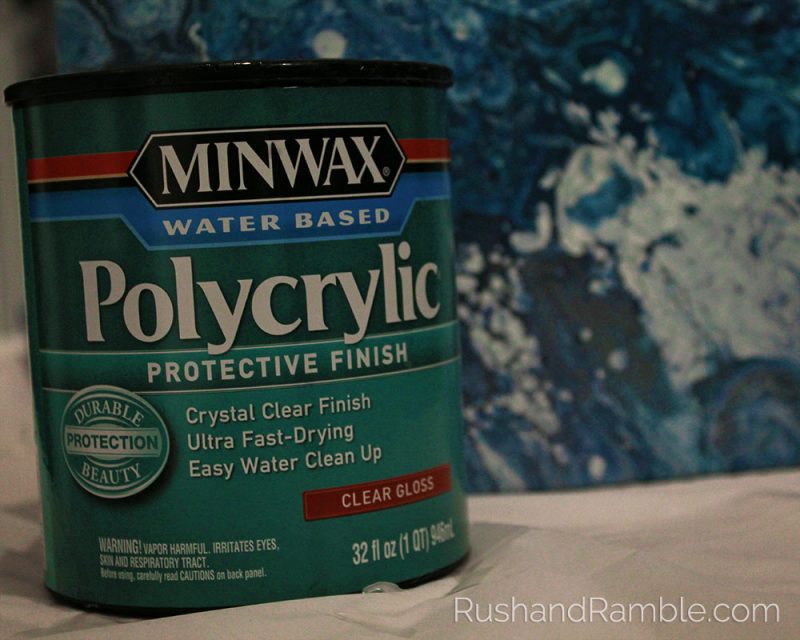 In most cases, I apply two coats, letting the Polycrylic dry for about 1 hour between coats. On a few canvases I applied quite a few extra coats. The reason being I added a little glitter and I did not want that glitter coming off on anything. Once the first two coats of Polycrylic dried over the glitter, I added on some vinyl stickers. I put two additional coats of Polycrylic over the stickers to help prevent them from peeling off.
I found the extra coats of Polycrylic gave a canvas a nice, thick gloss. I liked the look but it's probably not necessary for most applications. That said, anytime I use glitter you better believe there are going to be way more coats than are probably necessary. While glitter is fun, I don't like it ending up all over me or the house.
Once your clear coat is finished, your paintings are ready to hang. I'd recommend allowing at least a full 24 hours before putting the painting on the wall. The reason being is while it may feel dry to the touch, you're likely going to have drips of paint on the backside of the canvas. If you touch them, you won't get anything on your fingers, however if they sit pressed up against the wall, they may begin to stick to the wall. Once the acrylic paint and Polycrylic coat have dried, this shouldn't be a problem but until it has completely dried and cured I personally wouldn't trust it to not permanently affix itself to my wall.
Pro Tips
Wear Gloves
You WILL get messy. I don't know of any way to get around paint pouring all over your hands. Even with gloves, I ended up with pretty colorful hands by the end of this project.
Use Pushpins
If you don't have a rack or cookie sheet lying around that you are willing to completely destroy, opt for push pins. A lot of tutorials will show canvases drying on cooling racks or shoe racks or something else of that nature. Personally, I like my cooking racks for cookies, not paints.
Instead of destroying my cooling racks, I used four push pins, one in each corner of the painting. For a larger canvas I recommend additional push pins to more evenly distribute the weight along the frame and keep it from sagging into the goopy paint below. At some stores you can even find jumbo or oversized push pins. They cost a little more but will give you extra clearance between your canvas and the dropcloth.
Experiment
Some people will add a liquid silicone to the paint to increase the amount of cells. I didn't have silicone nor could I find it in the store. However, I found one tutorial that suggested OGX Nourishing Coconut Milk Serum as an alternative. I tried it and honestly I really wasn't in love with the look. It maybe this wasn't as great an alternative as they suggested or it could be I'm just not a fan of the silicone effect. Either way, I use it on a couple of canvases but then quickly dropped it from my process. In my experience, I saw plenty of cells form on their own without the need for the silicone additive.
You can also find multiple tutorials with people using a butane torch to help bring out these characteristics in the paint. I did not have a butane torch nor did I want to have one inside the house around a three-year-old so we also skipped that step.
Add Decals, Glitter and More
I mentioned above that I added glitter and stickers to some of these painting. I decided to make bedroom signs for my friends two daughters. I added the glitter after spreading the paint but before it dried. The stickers were added after three coats of Polycrylic and two coats were added on top of the stickers.
On one canvas, I attempted to go for a galaxy look. It came out nothing like I pictured, but after doing the dirty pour, I decided to make some stars. I did this by splattering a fine mist of white paint onto the still-wet canvas. It didn't come out as I had planned and I had a few accidental drips, but I'm still pretty happy with the final product.
Dirty Pour with Kids
While I don't recommend this one for very small children, I'm sure plenty of kids would have a blast making art along side you. They could probably at least help with selecting colors and pouring them into your dirty pour cup. In my case, I opted to make these in the peace after-bedtime hours of the night.
Share Your Art
I had a lot of fun making these painting, and I hope you will too. If you try this out at home, be sure to come back and share some pictures of what you made. And definitely make sure you find a special place to display it in your home.
Want to Read More?
Check our the Liquid Pouring Tutorial Series with painting instructor and guest author, Crystal O'Neil. Liquid Pouring Tutorial Series Part 1: Getting Started and Liquid Pouring Tutorial Series Part 2: Tips for Acrylic Liquid Pour are currently available. Stay tuned for Part 3, coming soon!