Few things are as American as apple pie, but who wants to be turning their oven on in the middle of the summer heat? This Fourth of July, I propose an alternative to the iconic American classic. Not only will it save you from the heat in the kitchen but it will also save you a whole lot of time and effort. It may even save you some calories, too (though probably not many).
This desert is a fan favorite for sure. I tried it on a whim last summer in an attempt to come up with a healthier dessert to bring to a friend's house. I was also under a time crunch. We had a last-minute invite to join our friends at a family member's home so the kids could swim in their pool. They were excited to get out in the sun and splash around and I was excited to get a night off from cooking dinner.
I was dealing with a curious and active two year old at the time, so I needed something that would be quick and easy to make and would allow for distractions between steps. I'm sure we've all encountered at least one recipe that required undivided attention. Whether it was constant stirring, precise mixing or exacting measurements, those kinds of recipes are fun to try in the right circumstance, but this was not those circumstances.
I did some digging around and came up with a few different ideas for recipes. I ended up tweaking this, adjusting that, and melding a few recipes together. I gathered my ingredients and threw it together in under 15 minutes. It was devoured even faster.
You only need a handful of ingredients and about 10 minutes in the kitchen and you're ready to go. The only downside is you don't want to prepare it too far in advance. With the fresh ingredients, it can easily make the shortbread crust soggy if it sits for too long. The taste is still perfectly fine, but it loses something without that delicious cookie-crunch texture.
Red, White and Blue Berry Pie Recipe
You'll need about two cups of strawberries, a cup and a half of blueberries and just under a cup of raspberries. You can also add blackberries if you would like. Wash and rinse all of your fruit. Set the blueberries, raspberries, and blackberries aside to dry while you remove the leaves from the strawberries and cut them up into bite-sized pieces.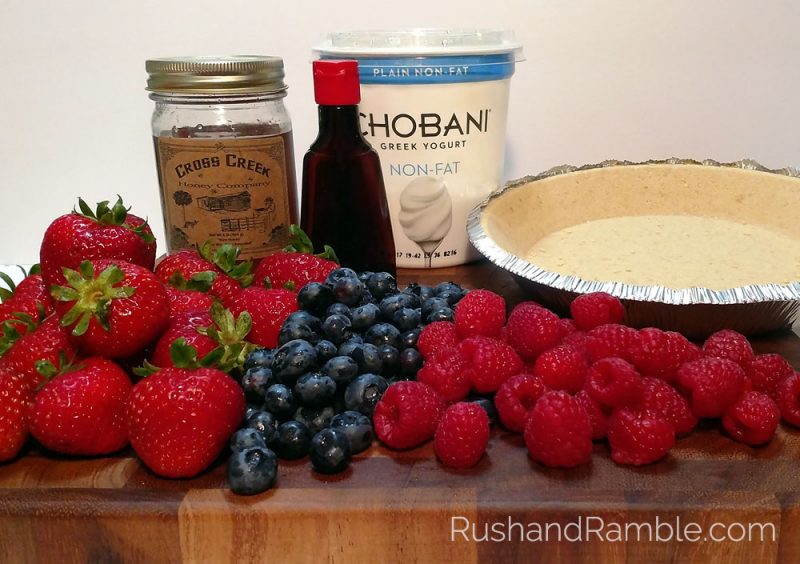 In a small bowl, mix together your plain Greek yogurt, Orange Blossom honey (you can use any honey, but this is my favorite), and vanilla extract. You can also try other yogurts like Siggi's Icelandic style skyr yogurt. Siggi's is thicker but can be harder to find and some people don't love the extra-thick texture. Personally, I think it's perfect for this recipe, but the store was out of plain yogurt.
Blend the yogurt mixture together and put a thin layer in your shortbread cookie crust. Layer on about two-thirds of your fruit. Next, layer the remaining yogurt mixture. Finish it off by layering the last of the berries. You can also drizzle a little extra honey on top for a semi-glazed, extra-sweet finishing touch. That's it. Just pop your finished pie in the fridge until it's time for dessert.






Pro tip: flip the plastic liner from your pie crust upside down, put it on top of your pie, and fold down the foil rim. This makes your pie travel-friendly without squashing it with Saran Wrap. Fair warning, people may doubt you made it yourself when you show up with your perfect packaging.
Ingredients

2 cups fresh strawberries
1  to 1 1/2 cups blueberries
3/4 cup raspberries
1 1/2 tbsp honey
1 1/2 cup Greek yogurt
1/2 tsp vanilla extract
1 shortbread cookie crust
optional: blackberries
Recipe
Wash and rinse berries. Set aside to dry. Cut strawberries into small pieces. Blend yogurt, honey, and vanilla in a small bowl. Layer on about two-thirds of your fruit. Next, layer the remaining yogurt mixture. Finish by layering the remaining berries. Optional: drizzle extra honey on top of the fruit.
I hope you enjoy this fresh Berry, Fourth of July ready pie. Just in time for your Independence Day cookout.